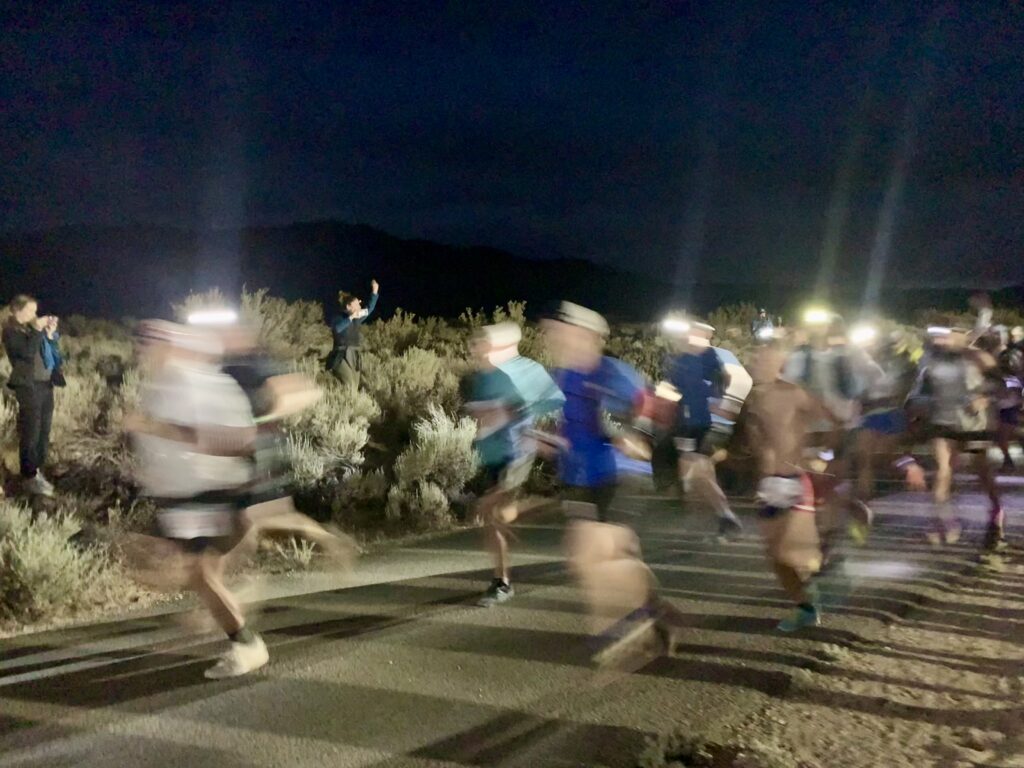 We came and conquered! After two years the Tahoe Rim Trail Endurance Runs party in the mountains took place with a new start / finish venue and a new course featuring a monstrous climb in the first 8 miles and a long, hot finish back to Carson City.
In all 144 runners took the start of the 100 mile and 98 found their way back to the finish for a 68% finishing rate. Historically we average 70%. The 50 Mile had 146 runners take the start and 129 finished for a 88% finishing rate. The 55K had 114 runners take the start and 109 finished for a 95% finishing rate.
I think we can all agree that the new start with the 4,200+ foot climb up Ash Canyon added another level of difficulty. While many found the start climb hard, it was the last 11 miles to Carson City that everyone talked about at the finish tent.
I have good news! As stated in the 100 mile race briefing, a new trail is almost completed that will link Carson City to the Tahoe Rim Trail, called the Capital to Tahoe Trail. Runners will come down a flowy 14 miles of single track back to Carson City and Western Nevada College. Will it be easier? No. But single-track is always better than a dirt road….
Many have asked if photos are available yet and today they just became available from photographer Keith Facchino. They are available here: https://facchinophotography.zenfolio.com/f48507537
Our aid station captains and their volunteers were so excited to be back in action. In all it felt pretty good to get back to normal again and be amongst our trail running community.
I'd like to thank our sponsors that help make this an elite level event. Patagonia, Topo Athletic, Injinji Toe Socks, The Fox Brew Pub, Diamond Peak Ski Resort, Western Nevada College, Black Diamond, Squirrels Nut Butter, Succeed S Caps, First Endurance Sports Nutrition, Honey Stinger Sport Nutrition, Reno Running Company, RYP Wear, Starbucks Minden Roasting Plant, High Desert Drop Bags. Thank you so much for your generosity and support!
Speaking of sponsors, the 20% off Topo Athletic coupon code expires on July 25th. Find the link to their website and the code on our Special Deals Page
TRTER 2022 will take place July 16-17, 2022. WNC will be our start/finish venue. Registration for the lottery will open December 05, 2021 and run until December 19, 2021. The lottery will be drawn and revealed on January 1, 2022.
Thank you all so much for keeping TRTER close to your heart and attending. Take care and all the best to you for the year to come.
George Ruiz – TRTER Race Director